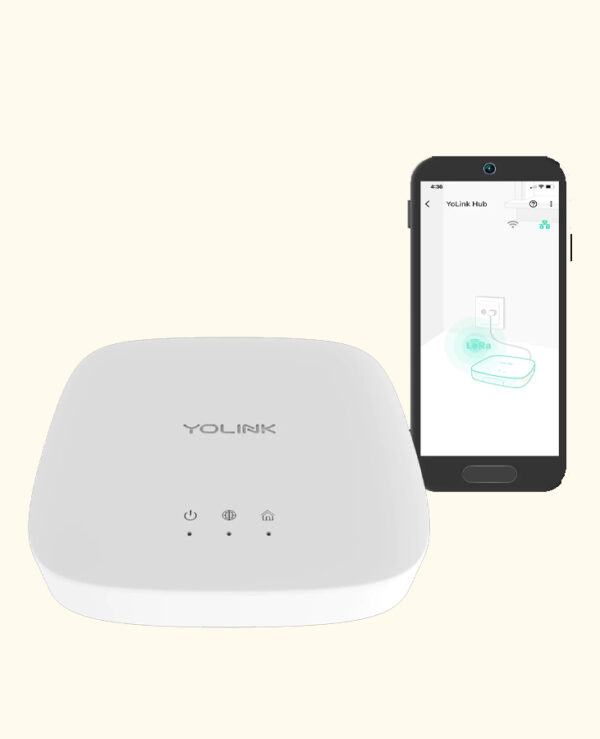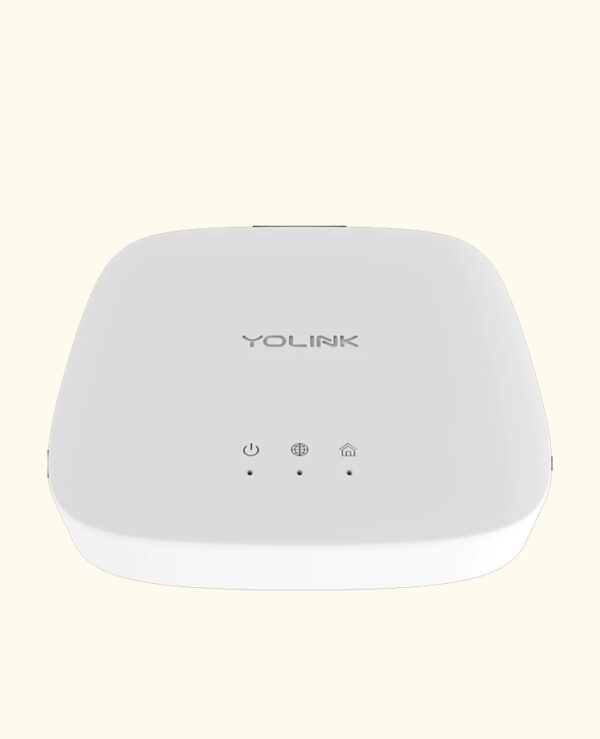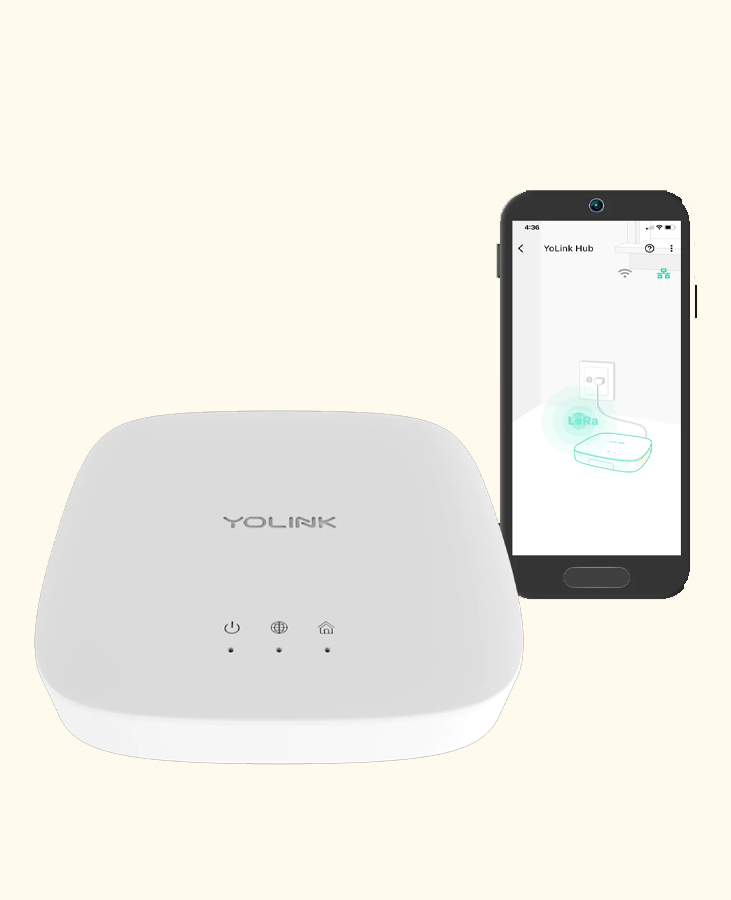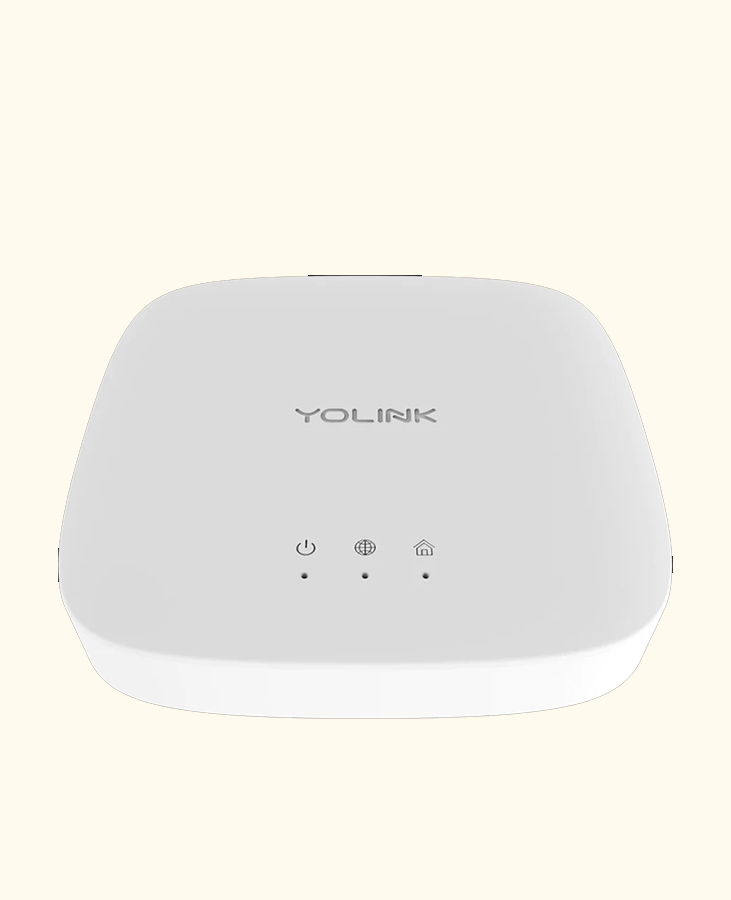 YOLINK HUB – INTERNET GATEWAY FOR YOLINK DEVICES
The Hub connects your YoLink devices to the Internet and to the user-friendly YoLink app
The YoLink Hub is the gateway to the internet for your YoLink devices and is required for full functionality, including the app (some functionality is available using Control-D2D pairing, but we recommend all YoLink devices have a connection to a YoLink hub at all times, if possible)
Description
COMPATIBLE WITH
FEATURES & BENEFITS
APPLICATIONS
DATASHEET
TECHNICAL SPECS
VIDEOS
Reviews (0)
Description
The first in our family of Hubs, the YoLink Hub supports Ethernet and/or WiFi internet connectivity. The Hub generates the YoLink wireless network and provides an internet connection to the YoLink devices.
The Hub connects your YoLink devices to the Internet and to the user-friendly YoLink app
The YoLink Hub is the gateway to the internet for your YoLink devices and is required for full functionality, including the app (some functionality is available using Control-D2D pairing, but we recommend all YoLink devices have a connection to a YoLink hub at all times, if possible)
COMPATIBLE WITH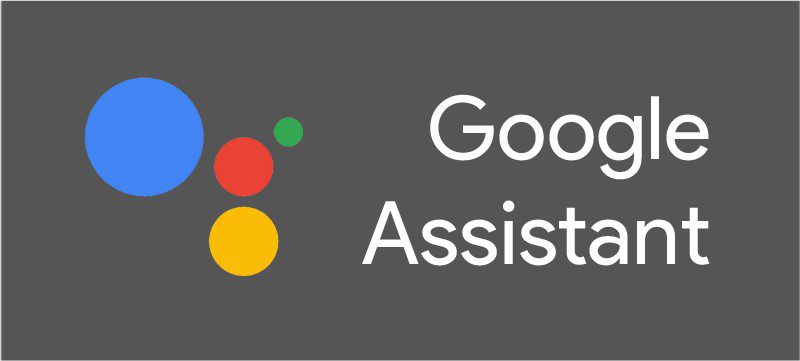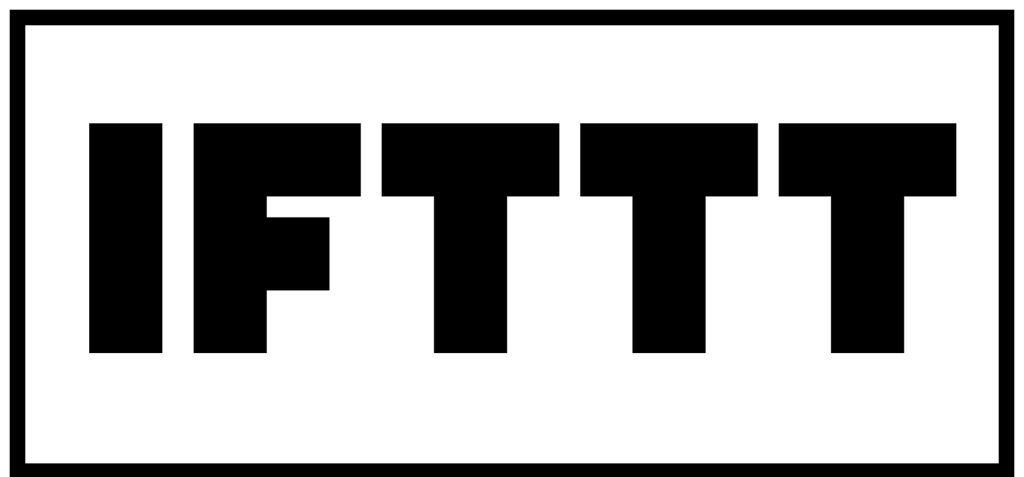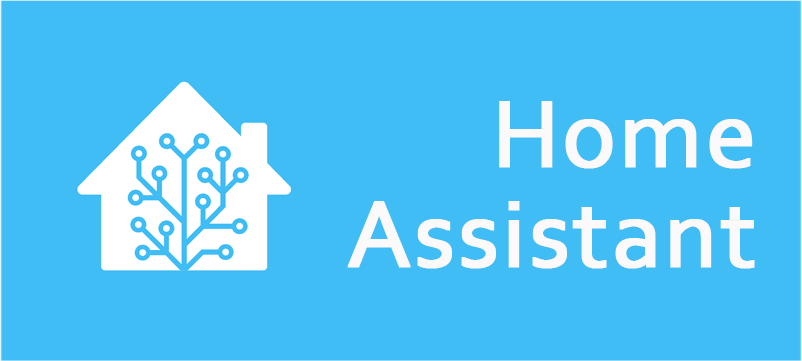 FEATURES & BENEFITS
Very easy plug & play initial set-up – no special network or computer knowledge required. Simply plug the included Ethernet patch cord into an available working network port on your router (suggested) or use a 2.4 GHz Wi-Fi connection and be up and running in moments
While many smart home devices rely on the home Wi-Fi system and may crowd your network or harm your Wi-Fi performance, the YoLink devices communicate with the Hub via the proprietary YoLink Protocol at the 923.3 MHz frequency (only your Hub connects to the Wi-Fi/network and Internet)
Homes with devices on Wi-Fi, or other protocols, with access to the Internet, are each, individual, potential safety, privacy, and security risks. Acting as the internet gateway the YoLink Hub connects your YoLink devices to the internet via one encrypted connection, providing safety and security for your network and home
APPLICATIONS
Use the YoLink Hub to provide an internet connection to your YoLink devices. This can be in your home, business, boat or RV or other location where you use your YoLink devices.
DATASHEET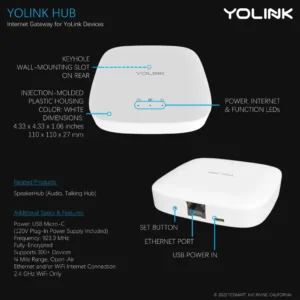 TECHNICAL SPECS
Semtech® LoRa® RF Module YL09 microcontroller with 32-Bit RISC processor
Frequency, LoRa: 923.3 MHz
Frequency, Wi-Fi: 2412 – 2462 MHz
Color: White
Dimensions [L x W x D]: 4.33 x 4.33 x 1.06 inches (110 x 110 x 27 mm)
Status LEDs (Top):
Green power indicator
Red feature indicator
Blue Internet indicator
Ethernet Status Indicators (Rear)
Green network speed indicator
Yellow network speed indicator
Set button (Rear)
Network connector: RJ45
Power connector: Micro-USB B
Power: 5 Volts DC
Environmental:
Operating Temperature Range: -4°F – 104°F (-20°C – 50°C)
Operating Humidity Range: ≤ 90% non-condensing
Intended for indoor use only
VIDEOS